By Ty Anderson, 985TheSportsHub.com
Bruins superstar David Pastrnak may go down as the first prank victim of life in the NHL bubble.
With things seemingly back to normal after his second straight day back on the ice with his B's teammates, and one day after trolling Justin Bieber (yet again), Pastrnak took to Twitter with an odd tweet that has some questioning just who it was that got a hold of the 24-year-old sniper's phone. In the tweet, which was posted just after 9 p.m. and from the NHL's bubble, Pastrnak praised the Capitals' Tom Wilson as the "best goal scorer in the league."
Huh?
Now, let's make one thing clear: Wilson is a definite talent. He's pretty much what an in-prime Milan Lucic was for the Bruins. But Pastrnak is literally the first person in the history of the planet to consider Wilson (a career-high 22 goals last year and 21 tallies this season) the best goal scorer in the NHL.
Something doesn't add up.
Even Wilson himself had to dispute the claim.
Naturally, people were quick to assume that it was Brad Marchand who grabbed Pastrnak's phone and had some fun.
It's not a bad theory. It's the most natural one, in fact. But Marchand didn't retweet or like the tweet, and his last few tweets have been promotional videos. Also: Everyone knows that Marchand's social media war is with Torey Krug, not Pastrnak. But maybe that's exactly why he's the No. 1 suspect. It's the perfect crime.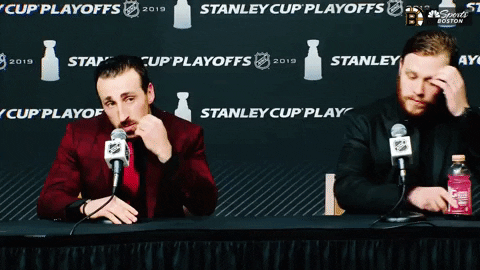 But, if not Marchand, who?
Is it possible Wilson himself got a hold of Pastrnak's phone? The teams are staying at the same hotel, but I'm not sure that these two are exactly buddies and playing ping-pong together. (They ended up scrapping the last time the Bruins and Capitals met.) I'm also not sure how much fraternizing you should expect between the teams. There might be some pleasantries, but to the level where the opposition can get a hold of an opponent's phone? I don't know. It seems like a stretch.
The world may never know who got a hold of Pastrnak's phone. Perhaps it was indeed Pastrnak himself, as unlikely as that may seem. But it's certainly time for Pastrnak to launch an independent investigation, find the culprit, and strike back. Some bubble gum in the gloves, skates tied together, changing the hotel alarm clock. You name it and it's on the menu.
(Before the B's quest for postseason redemption begins this weekend, anyway.)
Sports Hub Sidelines Podcast
We discussed the Bruins' redemption quest in-depth on the latest episode of the Sports Hub Sidelines podcast, plus much more. Have a listen below.
Ty Anderson is a writer and columnist for 985TheSportsHub.com. Any opinions expressed do not necessarily reflect those of 98.5 The Sports Hub, Beasley Media Group, or any subsidiaries. Yell at him on Twitter: 
@_TyAnderson.