By Ty Anderson, 985TheSportsHub.com
Last week, I outlined the reasons why LeBron James doesn't make a ton of (read as: much of any) sense for the Celtics.
Despite the fact that the Celtics are allegedly among the seven teams that James has a definite interest in meeting with this summer, the reasons why the Celtics should be out on the three-time champion varied all over the place. From everything that comes with LeBron and his traveling circus, the current state of the Celtics as contenders for the next decade, and beyond.
But what fun is anything without a dissenting opinion?
So, to hell with it: here's why bringing LeBron James to the Celtics makes perfect sense.
One? The 33-year-old James is the greatest player of his generation, and could be the most important player in NBA history. The fact that we even have legitimate debates asking whether or not he's on the same level as Michael Jordan says it all.
At 6-foot-8, and with the physical and mental attributes to do it all, James is a player that can play almost any position and still be — or be close to — the absolute best in the league at it. The Cavaliers, especially in recent seasons, have let this play out with four straight runs to the NBA Finals. James, meanwhile, has been to the NBA Finals in eight straight seasons. Eight. Straight. Seasons. There's not an active player on this planet that compares to No. 23. The closest is Kevin Durant, a player that's won back-to-back NBA Finals MVP honors, and stands directly in the way of LeBron's next ring.
Don't think for a second that that last part doesn't straight-up piss James off or won't play a factor in his next move. You can have respect for the opposition, which James obviously does with No. 35, but that doesn't mean he doesn't want to beat the holy hell out of him and/or find himself going against K.D. in a more level playing field in terms of a surrounding cast.
Oh, and James has also shown no signs of slowing down. If anything, he's found ways to conserve energy when needed (James was an exhausted mess in Game 5 but — fittingly — came out like a madman in Game 6 of the East Finals), become a more versatile and borderline unguardable talent, and thus become a more effective basketball player across the board.
If you're asking yourself where James fits into your roster, you're doing it wrong. You do what you have to fit James.
"…But Kyrie Irving, the current leader of the Celtics and LeBron's ex-teammate, hates him like poison. It will never work."
Well, not to be blunt, but in that case you would move on from Irving.
In a week that featured a story saying that the Celtics are fearful that Irving is going to bolt out of town in 2019, the 26-year-old superstar didn't exactly do his part to calm the masses, saying that his focus is on this upcoming season and not the future.
On one hand, you can respect Kyrie's always-present and extremely 'reality-based' approach to everything. But unless the Celtics get some sort of assurance that Irving is indeed staying in Boston beyond the 2018-19 season, it would almost be the most Anti-Danny Ainge thing ever to not have some sort of plan in place that allows the C's to maximize on Irving's value while they can. Especially if the world's best player has an interest in meeting with you this summer.
If Irving comes to you and says that he doesn't want to work with LeBron, that would actually allow you to move Kyrie (and another player with some money) out of town to fit LeBron into your mix. It's a two birds-one stone kinda scenario, actually. Or, in other words, in no world could I honestly see Ainge possessing a Top-20 NBA talent and letting him walk for nothing.
"…OK, but what if LeBron wants to be who he's been for years (like you just wrote) and is unmanageable?" 
I stand by the idea that expecting a player with over 50,000 of career minutes to suddenly be a different person is crazy. But reading into LeBron's postgame comments gave you a huge hint as to what he's looking for from his next team and coach.
"I made the move [to Miami] in 2010 to be able to play with talented players, cerebral players that you could see things that happen before they happened on the floor, and your teammate can do the same throughout the course of a season, throughout the course of a game, throughout the course of a playoffs, throughout the course of a Finals," James, who at his most honest this postseason, offered. "So when you feel like you're really good at your craft, I think it's always great to be able to be around other great minds as well and other great ballplayers, in my instance, and other great just, I think, studies of the game itself."
Talented players? The Celtics obviously have those, and James saw that, even with an injury-ravaged C's squad in the Eastern Conference Finals this past season. (James, for what it's worth, also raved about the potential of Boston's Jayson Tatum.)
And cerebral, great minds, and those that enjoy the studies of the game, huh?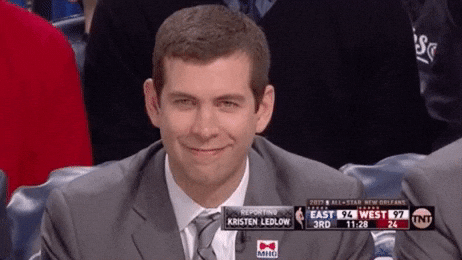 While I have nothing to back this up, it's hard to imagine there being a legitimately divisive blow-up between James and Celtics head coach Brad Stevens. It's obvious that Stevens respects the hell out of James. He gushed about him at every stop and turn during Boston's third-round war against James. And it's safe to assume that Stevens would easily rebuild whatever he needed to in order to properly play to LeBron's strengths. And if James truly wants to be around a great basketball mind and/or student of the game — or play for one at least — it would be in Boston under Stevens or as a Spur with Gregg Popovich.
LeBron has also talked about Golden State's model, which allowed them to add a player of Durant's caliber to their mix while building off the foundational pieces in place with homegrown talents such as Steph Curry and Klay Thompson. The Celtics certainly seem to have that in place with Jaylen Brown and Tatum, and with more lottery picks on the way.
"…But why is a 33-year-old worth selling your soul and compromising the culture and structure you have here?" 
Because if you have James, you're going to the NBA Finals. Period.
It honestly is as cut and dry as that. If you can convince Kyrie to coexist with James in Boston, likely parting with Gordon Hayward or Al Horford to get that done, you're back in the NBA Finals for the first time since 2010. You might lose just two games total in the opening three rounds, too. You get LeBron and you become a destination for veterans seeking a chance at a title. (You get a lot better than Greg Monroe if James decides that Boston is his next stop.) Ultimately, you need those players, especially when any and everybody else even somewhat noteworthy is accepting a role as the Warriors' waterboy.
And if the goal is to win as many championships as you can, then there's no reason for the Celtics not to be in on James.
Listen, the Celtics have done their work and been as patient as a team possibly can when dealing with James dominating your conference. The light may be finally be at the end of the tunnel for the Celtics, especially if James heads to the West. Or it could be extended should James sign with a team like the Sixers. Then you're right back where you were, and James becomes revitalized with a team featuring promising building blocks like Ben Simmons and Joel Embiid.
Only a fool wouldn't take the opportunity to dictate their own road to an NBA championship. And only a fool wouldn't believe that that road isn't best traveled with James and his photographic memory of the map to get there.
Ty Anderson is a digital producer for 985TheSportsHub.com. Any opinions expressed do not necessarily reflect those of 98.5 The Sports Hub, Beasley Media Group, or any subsidiaries. Have a news tip, question, or comment for Ty? Follow him on Twitter @_TyAnderson.